Noticeboard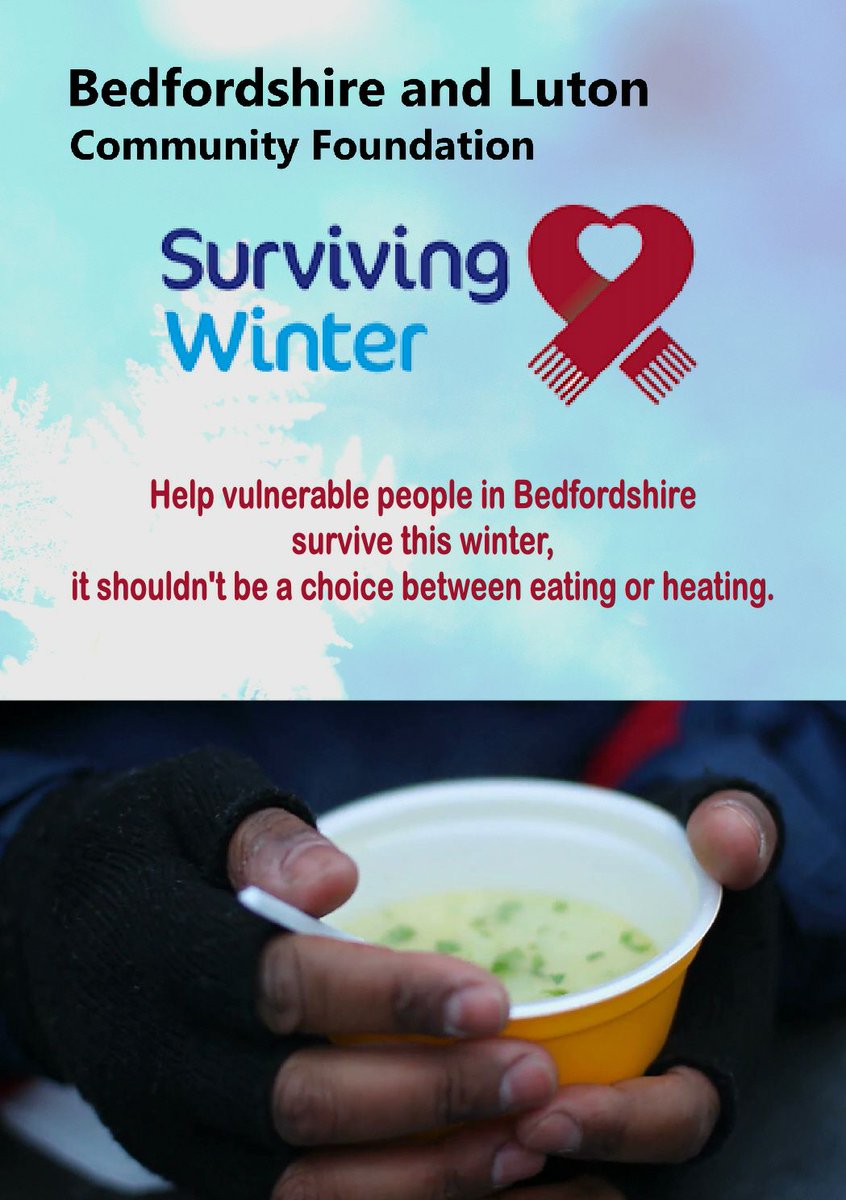 Can you help to support vulnerable people in Bedfordshire this winter? It shouldn't be a choice between eating or heating.
Bedfordshire and Luton Community Foundation (BLCF) are an independent registered charity, providing support to local community groups and charities, many of whom are working with some of the county's most vulnerable and in need. They have just launched the Surviving Winter appeal to support those who may struggle with food or fuel poverty during the winter months by providing essential items such as blankets, food or even helping people pay their energy bills.
Statistics suggest that around 700 older or vulnerable people in Bedfordshire die from illnesses related to or exacerbated by the cold each year. Older people or those suffering with illnesses such as cancer are at particular risk as they can find it more difficult to keep warm, but for many the rising energy prices means they can't afford to keep the heating on. On average 1 in 6 children in Bedfordshire are living in poverty, which is estimated to affect around 41,753 households. These families and others like them, with the additional costs associated with the cold weather can mean many parents having to make a choice between heating and eating.
BLCF is looking to raise vital funds within the community which will be used in several ways; including giving small grants to not-for-profit groups working with disadvantaged people, provide winter survival packs to individuals and families living in poverty across Bedfordshire and also help vulnerable people pay their energy bills. Partnering with key organisations, like local Foodbanks, Age Concern, who work at grassroots level to ensure the support is reaching those most in need. The appeal is running between November and March and aims to raise £20,000 to support individuals and families across the county.
If you would like to donate to this appeal, you can text 'BLCF10' £5 or £10. They are also looking for local businesses who wish to give their support by fundraising or sponsoring the appeal also.
So many people give to large national charities, but often forget the smaller grassroot charities and community groups. Please help them make a difference locally!
If you have any queries, please get in contact with Francesca Johnstone on 01234 834930 or Francesca.johnstone@blcf.org.uk
15:26, 07 Nov 2018 by Parish Clerk

Archive
Use the calendar or list of months to view entries made on those dates.
| S | M | T | W | T | F | S |
| --- | --- | --- | --- | --- | --- | --- |
| | | | | 1 | 2 | 3 |
| 4 | 5 | 6 | 7 | 8 | 9 | 10 |
| 11 | 12 | 13 | 14 | 15 | 16 | 17 |
| 18 | 19 | 20 | 21 | 22 | 23 | 24 |
| 25 | 26 | 27 | 28 | 29 | 30 | |